The obvious answer is "yes, always" right?
Without hesitation and by compulsion we should adhere stoically to the truth when offering guidance to clients. Perhaps delivered with compassion and understanding but ultimately the truth should always be aired. Whether we are utilising statistics and figures to illuminate the benefits or downsides of certain routes and destinations or to explain the expert guesses at the future labour market landscape awaiting our clients, the onus is on the professional capability of the adviser to be prepared and competent enough to have a range of sources on which to draw from that reflect the "truth." The importance of this skill is considered such a key element of the role it is given it's own Unit in the Level 6 Career Guidance Diploma.
Sometimes, the actual reality of what statistics show is happening can be lost in our own personal experiences or subjective views as Nick Hillman, the Director of the Higher Education Policy Institute, discovered when confronting a room full of careers advisers convinced that the introduction of University fees was discouraging students from lower-income backgrounds to apply to H.E despite no current data to support this. Perhaps those advisers had personal, anecdotal stories which had blinded them to the wider world view or perhaps the data had just failed to get through the avalanche of numbers, figures and headlines that advisers try to keep up to date with about future labour market trends. The media (and those PR folk whose sole job it is to shout purely about their corner of the education world) don't make this part of the job easy as the recent spate of headlines proclaimed that apprentices were now earning more than graduates shows.
Graduates are more likely to find themselves in low-paid jobs and are earning less than people who decide to do an apprenticeship instead of going to University, figures from the Office for National Statistics show
Which is all striking enough to get a Careers Adviser to take notice and feed into their messages of guidance. But was it the whole truth? A graph of recent ONS data shines a very different light on those claims.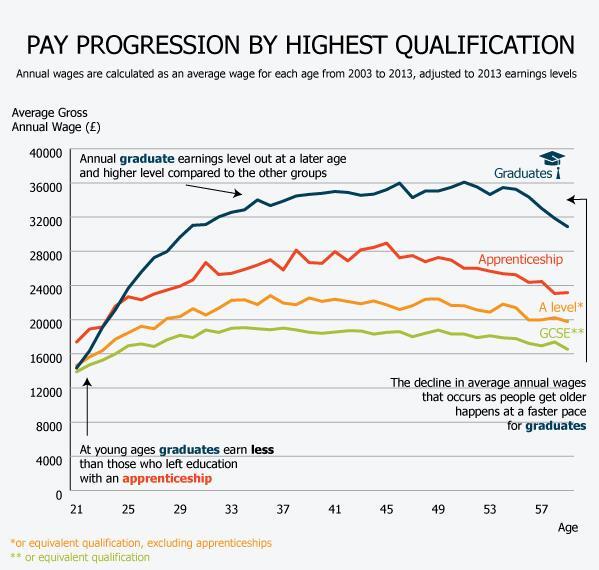 Which clearly shows that, on average, graduates still outperform all other qualification routes on earnings. Some apprentices may be earning more than some graduates but HE leavers "on average" are still earning more over the course of their working life. When speaking to a confused 15-year-old about comparing the benefits of their possible future routes, which source would you use? Which one is closer to the "truth?"
Questions around subjectivity can significantly impact and influence the message conveyed by individual guidance givers. Despite our own professional best intentions, our own media intake, reading and decisions will drastically alter the range of data and the perception of that data we use with clients even before we interweave the personal stories and experiences of both ourselves and our client into the mix. The impact of influences on the truth we convey and omit can be drastic.
Let's invent a client, a 15-year-old female student called Laura, studying at a regular English secondary school. Let's imagine she's bright and able to do well in her subjects with hard work. She'll need to be, Laura is from a home eligible for Free School Meals so is 26.5% less likely to achieve A*-Cs in her Maths and English GCSEs than her classmates who do not receive FSM. If the school Laura attended was in Grimsby or Bradford, this hard work would be needed to insulate her from becoming the quarter of her age group who will become NEET upon leaving school. Let's say Laura is on course to negotiate these initial hurdles and has expressed an interest in studying at the local Sixth Form College, which has navigated the pressures on their funding to still offer the STEM courses Laura is interested in. The closer she gets to her GCSE exams, it becomes clear that Laura may be on target for some excellent results which, considering her Afro-Caribbean heritage, means she would be outperforming her peers who remain the lowest performing ethnic group in British schools (para 1.3) . Teachers start talking to her about the differences in University options and light a fire in her to investigate the exclusive world of the Russell Group. Her fears about the average £44,000 of debt her studies will leave her paying into her 50s are allayed (much to Nick Hillman's cheer) with the tantalising promise of  bursaries to help her despite that just a third of students receive £1400 a year. Achieve the outstanding grades required and you'll have a great chance, she is told, despite the truth that her heritage and her state school education make it much less likely she would receive an offer compared to other students with the same grades.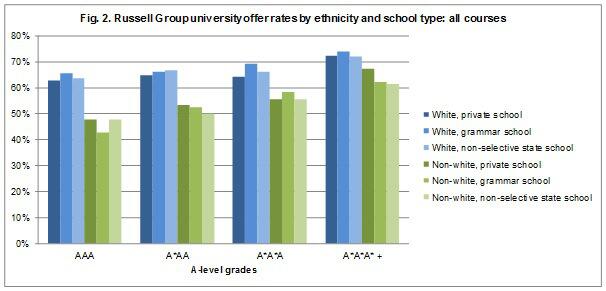 Let us say Laura battles through to graduate with a valued STEM career to take one of the 13% of STEM roles currently held by women then to find that her pay is well below her male colleagues
and could be even more greatly affected by her decision to stay near her family home in the north of England.
If Laura was shown this version or each chunk of this version of the "truth" at the start of her journey, at which point would the enormity of the challenge laid out in front of her weigh her down and halt her efforts? At which point would the "truth" stop being beneficial and become a hindrance and a drag on aspiration? As Tristam Hooley comments on the  Nick Hillman piece
Careers advice, like politics, is the art of the possible. In fact much of the rationale for the existing of career guidance as part of public policy is the fact that helps individuals to make their way through sub-optimally organised systems.
so at which point should the full extent of just how "sub-optimal" the system is be shown? At which point does the "possible" become narrowed to reflect the reality rather than expanded to reflect the ambition? I've blogged before on framing Labour Market Statistics not as a dissuading element but as a motivator to encourage students to push on and achieve their dreams but Nick's piece made me consider a deeper truth in my own practice in adhering to the statistics. Through omission and selection, I do not always "tell the truth." I choose which facts and statistics to unveil to students that I think will motive and encourage them at opportune and transitional points and through that, hope to play a small role in the process as they move forward to see their version of the "truth" themselves.